Isn't being happy enough? Why is wellbeing so important?
The COVID-19 pandemic took the possibility of sustained happiness in the year of 2020 and beyond and has made it painfully clear that our emotional well-being is critical, variable, and vulnerable.  Covid has challenged our ideas about pursuing constant happiness. In current circumstances, many have realised that perhaps wellbeing is a more realistic and attainable goal.
Well-being was once thought of as a nice to have and to be achieved when all else is accomplished, while we now accept the notion that wellbeing is a must-have that enables us to navigate the complexities of life.  It is actually possible to achieve a good level of wellbeing even in a pandemic, even if is not necessarily easy to attain or maintain. Yet the upside of working towards a higher state of wellbeing brings rewards for the individual while it also benefits the home and family environment, the workplace and the community.
Isn't Happiness enough?
But what about the allure of seeking happiness?  The master of positive psychology and well-being theory, Martin Seligman describes well-being as a construct compared to happiness which is a 'thing'.  We are confronted in modern society by people asking how are you? Are you happy? I often hear mothers say, I just want my children to be happy. Happiness, however, is often determined by the pleasurable feeling or a mood at a specific moment in time rather than over time.  In contrast, when looking at individual wellbeing it is multi factorial and considers both happiness and the presence of positive affect and the absence of negative affect over time.  Happiness as a measure on its own is vague and doesn't consider the broad range of emotions that one is likely to experience over a lifetime nor is the avoidance of negative feelings (affect) is a healthy or balanced approach to life. There are many situations in life where positive emotional responses are simply not appropriate, such as illness, death, or tragedy.  This is not suggesting that an injection of humour is not helpful, but rather allowing for the usual range of emotions to be experienced.
Humans have an inbuilt baseline for happiness and once experiencing a positive or negative response, tend to return to the baseline again.  Think the purchase of a new car which evokes happiness on the day of delivery, the few weeks after and then the happiness returns back to a baseline.
Both wellbeing and happiness remain important as they have been shown to lead to many good outcomes in life including higher productivity, motivation about life and work, living longer and a more healthy and stronger immune system, making more money, being better leaders and better citizens in their workplace.
An individual's well-being is a more holistic measure: it  can be assessed by taking the satisfaction with life survey (SWLS) which is a longitudinal view of one's life, taking into account the expectations of life, the conditions of one's life and a subjective view of whether the respondent has the important things from life they hoped for.  This is distinct from happiness which is more about mood and sense of optimism in a given moment.  The work of Martin Seligman in Positive Psychology helps demonstrate the more holistic nature of wellbeing with his handy mnemonic PERMA.   The variables of Positive emotion, Engagement, Relationships, Meaning and Accomplishment. Any of these elements could provide moments of happiness, particularly the first two as they are subjective, but it is the combination of these five that contribute to and make someone's wellbeing measurable.
When we look more closely at Wellbeing and go back to the example of the purchase of the new car, the sense of happiness might still be heightened for weeks after the purchase, but then it will diminish over time.  However, if the owner of the new car is mindful about this acquisition and participates in the act of savouring and having gratitude for their ability to purchase and care for the new car, they create a possibility to increase their wellbeing.  There are many interventions an individual can adopt to enhance one's wellbeing and extensive work on the domain of positive psychology provides a scientific basis from which wellbeing can be dialled up.
While moments of happiness may be fewer during the pandemic, individuals have the capacity to manage their wellbeing once they have access to the knowledge of how accessible wellbeing interventions are and how they can easily adopt them.  Simple actions such as:
a gratitude journal,
the three good things exercise,
using signature strengths,
mindfulness and meditation practice,
time in nature,
savouring moments of joy as simple as making and sipping your morning coffee,
reflecting on past positive experiences,
naming the meaning behind activities,
spending time with people who make us feel good and loved and provide a sense of belonging,
having a sense of achievement and accomplishment from small to big tasks.
All the above contribute to make up one's wellbeing.  All of these interventions are acts of intention, are cost effective and accessible to all.
Wellbeing has been widely written about, researched, blogged and marketed.  It's not a gimmick but rather an evidence-based way to shift and manage yourself during the course of your life, with whatever is happening in the external world.
Support for Wellbeing can be gained through coaching, wellbeing workshops, books and apps.
Sheena Polese is a co-designer and facilitator of Women's Wellbeing One Day Getaway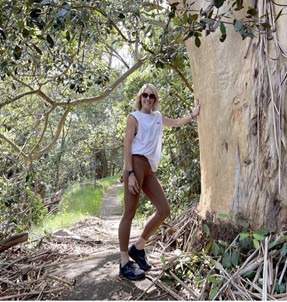 Sheena holds an MBA from Macquarie Graduate School and a Master of Science, Psychology of Coaching from Sydney University, she serves on the NSW International Coaching Federation Committee and is President elect for 2021, holds accreditations in various psychometric and 360 tools and has a strong focus on Adult and Leadership Development, Performance, Wellbeing and Mindfulness.
Sheena has applied her learning's in Motivation, Positive Psychology, Goal Theory, Mental Toughness, Mindfulness and Resilience, in both her professional and personal life to achieve a high level of performance in her corporate roles, working through a career pivot, and to aid her sporting endeavours in long distance running (Sheena has run the UTA 100, 6 ft track, many road marathons), rowing and other outdoor pursuits (crossing the drake passage to the Antarctic mid a hurricane, climbing Mt Kenya, trekking to Camp 2 at Everest on the Tibet side) and has used her learnings for coping with grief and trauma. Sheena believes living a values based life brings greater wellbeing and life satisfaction and helps people set and achieve meaningful goals.
References
Flourish, Martin Seligman, 2012 Random House
National Differences In Subjective Well-Being Diener, E., & Suh, E. (1999).
Very Happy People, Diener And Seligman, Psychological Science, Volume 13, No 1 2002
SWLS Created By Ed Diener, Rober A. Emmons, Randy J. Larsen And Sharon Griffin, 1985
Achieve Your Potential With Positive Psychology, Tim Lebon, Hodder & Stoughton, 2014